Government revs up Stonehenge tunnel and £15bn road investment
The coalition claims to be planning the 'biggest upgrade to roads in a generation'.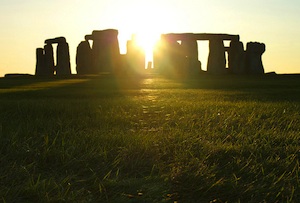 More details of the Government's spending plans are beginning to trickle out in the run up to George Osborne's Autumn Statement on Wednesday. Today it fleshed out a £15bn plan to triple spending on Britain's roads, a move welcomed by business groups.
In the future motorists hoping to snatch a glimpse of Stonehenge will be forced to stop and get out, as the Government plans to put the A303 in a tunnel beside the ancient monument. The road is notoriously bad for traffic, leaving motorists frustrated and tourists unable to enjoy the stone circle.
The plans are much more extensive than one tunnel though. Adding extra lanes to the A303 and A358 will make it possible to drive on a dual carriageway almost all of the way from London to Land's End in deepest, darkest Cornwall.There are also plans to widen the A1 north of Newcastle, turn the M62 between Manchester and Leeds into a four-lane 'smart motorway' (whatever that is) and improve one third of junctions on London's M25.