Government and Royal Mail 'sideline' the CWU
A leaked document suggests the government and Royal Mail are planning to tough-out the postal strikes. Can you blame them?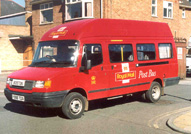 The postal service provider and the government stand accused of plotting together to bypass the workers' union to achieve reform 'with or without union engagement', after a Powerpoint presentation was obtained by the BBC.
The document, as received by the Newsnight team, outlines Royal Mail's plans to fight strike action and to achieve modernisation - with or without the support of the CWU. Royal Mail naturally claims not to recognise the document, although the CWU reckons it's genuine.