Should the government save Port Talbot steelworks?
Its Indian owners have put the entire Tata Steel UK business up for sale, prompting calls for state help and even re-nationalisation.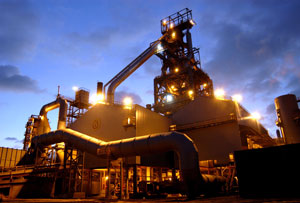 The fact that the board of Tata Steel has decided to put the whole of its UK operations up for sale looks like pretty bad news for UK manufacturing. Steel is after all one of the most fundamental of raw materials, used by everything from car makers to the heavy construction industry.
Business minister Anna Soubry (her boss Sajid Javid is in Australia...) says the government is ready for a substantial intervention, whilst neatly avoiding saying exactly what that might be. Meanwhile unions are calling for renationalisation, a throwback to the 1970s which will surely never happen.
But some kind of short-term state support might be possible - such as acting as loan guarantors to private investors - so should the government intervene to prop up at least part of Tata Steel? Probably the giant Port Talbot steel works in South Wales, which as well as producing up to five million tonnes of steel slab annually, employs 4,000 directly (as many as 16,000 indirectly according to some estimates) and pays out no less than £200m a year in salaries. Here's the MT take on the pro's and con's: