Government to set up small business forum
Can Mandelson's latest talking-shop rescue Britain's troubled SME sector? You'll forgive our scepticism...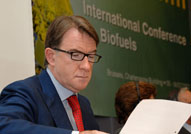 The Government has come up with another brilliant wheeze to try and solve the pressing problem of SMEs' lack of access to finance. After meeting with the banks this morning, Business Secretary Lord Mandelson says he's now going to establish a discussion forum 'in the next few weeks' so the two sides can resolve their differences. 'Where there are issues about the availability of lending and the terms of lending, they can thrash these out and tease out the problems,' claimed Mandy. Easier said than done, we suspect…
Chancellor Alistair Darling and Business Secretary Lord Mandelson spent the morning locked in discussions with the CEOs of our big high street banks, supposedly in an effort to brow-beating them into getting their cheque books out again. Under the terms of the part-nationalisation deal, RBS, HBOS and Lloyds TSB are supposed to continue lending at 2007 levels – but this is clearly not happening. Small businesses are complaining that their access to finance has not improved one bit – and their banking is getting ever more expensive.
In fact, as Mandy told the Business Select Committee this week, many small businesses are being hit with a 'double whammy' – not only are banks demanding punitively high interest rates even if they can be persuaded to lend, but they're also starting to pile on extra charges for services that used to be free. And SMEs report that there's been no sign of improvement even since the bail-out package was agreed. Not surprisingly, they're getting quite irate about this.