Government on wrong track with Network Rail fine
The regulator has hit Network Rail with a record £14m fine. So get ready for the whip-round...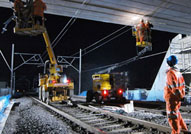 The fine, imposed by the Office of Rail Regulation, relates to delayed engineering work that closed three of its most popular lines for days over the Christmas and New Year period – not exactly the most convenient time of the year for the public transport network to grind to a halt. Apparently the technicians who were supposed to be fixing the line just didn't show up – perhaps they'd over-indulged on the Christmas turkey.
And there's more pain to come – the rail operator says it will need to do further engineering work over the summer (meaning more delays) if it's going to have any hope of hitting its December deadline for the upgrade of the West Coast Main Line. And since the regulator was scathing about Network Rail's planning and project management skills, frankly we wouldn't put any money on them hitting it.
But there's only one problem. Network Rail is, to all intents and purposes, a nationalised company (although the government doesn't technically class it as such, or it would have to take its enormous debts onto the public balance sheet). It's not run for profit, and it doesn't have any shareholders. So where exactly is this £14m – a record fine for a rail company – going to come from?