The government's business bank could do just the job
If the business secretary sets it up correctly, the proposed 'business bank' could be just the shot in the arm that the SME community needs.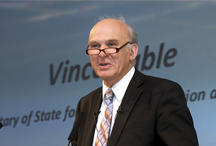 The news that the economy grew by 1% in the last quarter shows that, at last, light is appearing on the horizon. Initiatives including the Business Secretary Vince Cable's announcement of a £1 billion government-backed business bank for small and medium enterprises, and Lord Heseltine's recent report, 'No Stone Unturned in Pursuit of Growth', demonstrate that the coalition government has a preoccupation with being seen to be in control of delivering new growth.
Lord Heseltine argues that spending and investment decisions are best made by local business and political leaders as there is no 'one size fits all' solution when it comes to stimulating growth. There is no mention in his document of the government business bank. The idea at the heart of Heseltine's strategy is for government to develop a national growth framework and industrial strategy but for £58 billion of funding to be devolved to the already existing Local Enterprise Partnerships and for business investment decisions to be taken at a local level in partnership with the public sector.
Cable's business bank faces at least two challenges: how to make the lending criteria sufficiently flexible to accommodate the diverse range of borrowers, and of course how to offer more with less, given the scarcity of financial resources. The answer is to promote and offer finance through non-conventional routes: little change will happen if the government simply tries to compete with existing banks.