Govt payday loan cap: not a u-turn
The chancellor wants to introduce caps on fees payday lenders can charge. This isn't a u-turn, it's a 'logical step'.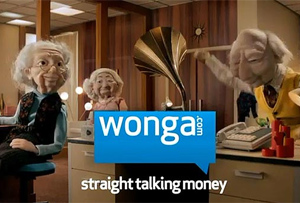 Uncharacteristic decisiveness from George Osborne this morning: the chancellor has announced the government will, in fact, impose a cap on the fees payday lending companies can charge. Although it's not fully clear what 'fees' means…

This has all been done rather strangely. Technically, the Financial Conduct Authority already has the power to cap payday lenders' fees. But Osborne has sort of nudged it into actually using them: in an amendment to the Banking Reform bill, he 'put a duty' on the body to impose the cap, the Treasury said this morning. Quite why the FCA couldn't make its own mind up, we're not sure.

The industry is notoriously unscrupulous: among some lenders, interest rates can rise as high as 6,000% APR, and 'rolling over' loans – allowing customers to extend their loans – is pretty common. Wonga is the industry's flagship, although compared with some of its rivals, it's pretty benign. Earlier this year a campaign by the Office of Fair Trading (which wrote to companies asking them whether they were 'suitable' to, er, exist) resulted in the closure of 19 companies. Another six have stopped operating since.

So the chancellor's rather vague assertion – which will, he says, include 'not just the interest fee, but also arrangement fees as well as penalty fees', as well as loan rollovers and 'continuous payment authority', which allows companies to take money from a borrower's bank account – is, on the surface, pretty reasonable.

But lenders will argue that because lending periods are so short (usually about a month), charging sky-high interest rates is the only way they can make money. And, as Wonga's new ad-cum-arthouse film suggests, rather than walking, unsuspecting, into a debt nightmare, many payday loan borrowers just need a bit of cash over the short term, pay off their loan on time and understand the costs involved.

Still, the weird thing is that only six months ago, treasury minister Mark Hoban was saying an interest rates cap was 'not necessary'.

'The Treasury is confident that a range of powers is in place to help people in respect of payday lenders and high-cost lenders,' he said back in May.

Despite that, Osborne insists this is less a U-Turn, more a 'logical step'.

'Ultimately the government and parliament has to take a lead,' he said this morning. So it might not be such a happy Christmas for payday lenders after all...