Graduate jobs down just 9% in 2009
Employers didn't cut back on graduate recruitment by anything like as much as expected last year.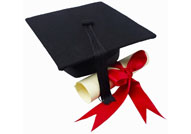 Last year was supposed to be a rotten one for the graduate recruitment market, as companies looked to cut costs by taking on fewer university leavers. But according to the Association of Graduate Recruiters, the total number of vacancies actually fell by just 8.9% - much less than the 25% drop gloomy employers were predicting this time last year, and not noticeably worse than the market as a whole. Better still, the AGR's latest research is pointing to a mere 1.6% drop in 2010. Let's just hope the forecast is a little more accurate this year...

The report suggests a degree (boom boom) of optimism about 2010: 51% of employers expect to have more graduate jobs available this year than last. Oil companies are feeling particularly bullish, predicting a 50% rise in vacancies, but consultants (with a 47% hike) and banks (25%) are also expecting to do their bit for the class of 2010. It's possible that some employers have learned from their post-dotcom mistakes, when many slashed graduate recruitment too far and ran into problems further down the line. Or perhaps it's just a sector thing – the AGR reports that charities are expecting to cut vacancies by 49%, and even the public sector, that traditional safe haven, is predicting a 7.5% drop.

Speaking of safe havens, it was also interesting to note from the survey that another standard graduate fall-back – the postgraduate degree – is also rather frowned upon by employers these days. You might think that further study is a sensible way for graduates to boost their CV when there aren't many jobs going, but in fact the recruiters surveyed said they'd rather people tried to make themselves more employable by taking unpaid or temporary work, or doing some kind of additional skills training. Either said than done, but still.

With vacancy numbers apparently stabilising, the AGR is now fretting about salaries. Apparently the average graduate salary remained frozen at £25,000 for the second year in a row, an 'unprecedented development in the 20-year history of the AGR survey'. This is particularly bad, it argues, since 2009 and 2010 graduates will be the first to pay top-up fees for all three years of their degree. Of course we're sympathetic, not least because this figure is skewed upwards by the bankers and lawyers picking up the big bucks (£38,250 and £35,000 respectively, apparently); those lower down the scale will undoubtedly find it very tough to service their debts. On the other hand, they're a lot better off than all those poor souls who can't find a graduate job at all...

In today's bulletin:
Sterling pounded as euro plummets and deficit widens
Snow blamed for 'awful' January sales
BSkyB swallows £350m loss on ITV stake
Graduate jobs down just 9% in 2009
The value of battle-scarred execs