Graduates earn biggest bucks at... Aldi
Discount supermarket Aldi offers graduates the nation's best starting package: £40k plus a car...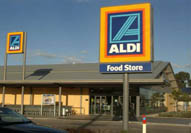 The firm's 'pile it high and sell it cheap' approach has admittedly helped it to do very brisk business in the current downturn, with UK sales up 25% recently, propelling Aldi into the prestigious top 10 of the world's retailers. But all the same the news that it is now offering the country's most lucrative deal for new graduates is a bit of surprise. After all, in recent years we've become used to the idea that young bucks in search of the top dollar head for the City, or a big law firm or consultancy at a pinch.
Well, not any more, according to research from graduate recruitment market specialist High Fliers. Milkround recruitment is down 17% across the board, but the intake into the investment banking sector has been worst hit of all, with jobs down 44% year on year. Graduate vacancies in professional services are down 15%, too.
And even though the money on offer at banks and law firms - £38,000 and £37,400 on average respectively - is not too shabby compared to the overall average graduate salary of £27,000, it can't hold a candle to Aldi's tempting 'four with four zeros' deal. Especially not when you consider that the package rises to £60k for those who are still there in three years time, and that an Audi A4 company car is thrown in. Presumably there's a staff discount on those already unbeatable Aldi grocery prices, to boot. What's not to like?