Most graduates are over-qualified for their jobs
Despite companies complaining of skills shortages, there's actually a 'skills mismatch', says the CIPD.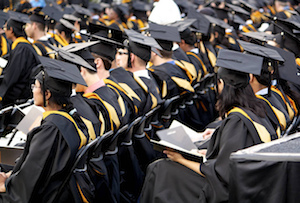 The so-called 'skills shortage' is a well-versed complaint of companies, especially in technical fields like science, engineering and IT. But the problem isn't necessarily just that Brits aren't qualified enough. Graduates are actually increasingly over-qualified for jobs that could be done by people who haven't been to university.
Over-qualification has reached 'saturation point', according to the Chartered Institute of Personnel and Development (CIPD), which found 58.8% of grads were in 'non-graduate' jobs.
That proportion was only outstripped by Greece and Estonia. In contrast, in Germany, the Netherlands, Slovernia and Switzerland, European countries with a strong history of vocational training and apprenticeships, 10% or less grads were in work that didn't require degrees.