Graduates spurn corporate careers
More university graduates are choosing the self-employed route, according to research. But is this because there's no other choice?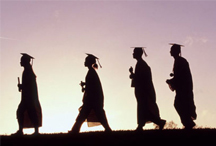 According to online freelancer marketplace PeoplePerHour, the number of graduates choosing to work for themselves has more than doubled over the last year.

The number of people fresh out of university registering as freelancers or micro-business owners has increased by 105%, with the number of male graduates up 114% and female graduates up 96%, the company says. The most popular skills being offered by grads are website design and mobile app development.

Many graduates have specific or tech-savvy skills that are in short supply, and are touting their skills at companies looking for their expertise.

But do they have any choice? The latest graduate unemployment figures from the Office for National Statistics showed that around one in five new graduates were out of work, while a significant number were forced to flip burgers or take part-time work after leaving university.

Figures released by the Higher Education Statistics Agency earlier this week also suggests that male graduates struggle more than females to find work. In a study of more than 400,000 graduates who left university last summer, 9% of males were unemployed six months later, compared to 6% of females.

However when it came to salaries, men have the upper hand. Of those who had found their way into work, 32% were earning more than £25,000 a year - compared with just 18% of female graduates.

Overall, the figures showed that 67% of UK and EU graduates had found full-time employment six months later – the remaining 33% had either gone on to further study, were unemployed or working part time.

With such a high percentage out of work or underemployed, is it any wonder that graduates are finding other ways to make money? And, if they had the choice, would they still choose to work for themselves if they were offered a full-time position with a major company?