The grate Italian cheese bailout
Forget banks and carmakers. In Italy the Government is more interested in bailing out the Parmesan industry...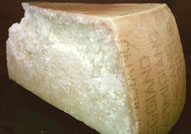 The Italian government has apparently agreed to buy 100,000 wheels of Parmigiano Reggiano and give them to charity, according to the Wall Street Journal, in a bid to prop up the struggling cheese industry. Cheese-makers complain that they're currently being forced to sell their produce at a loss, so the government is apparently funnelling some €50m in cash to them from a fund intended to help feed poor people. So Italy's needy and destitute can look forward to some high-quality toppings for their future soup and pasta portions…
The Journal quotes a farmer called Marco Iemmi, who's apparently been in the business for 30 years – apparently he's currently selling his cheese (about 15,000 wheels a year, to be precise) for €7.40 a kilo, but it costs him about €8 a kilo to make. Even the Italians can work out that this isn't economically viable (MT ducks to avoid projectile from in-house scribe of Italian descent). The Parmigiano-making process is apparently ludicrously complicated, requiring certain types of cows and very specific timeframes, so it's not easy to cut costs – and with the majority of production done by tiny family businesses like Iemmi's, each of them has very little leverage with buyers to push up prices.
The cynics among you may point out that it sounds rather inefficient for such a labour-intensive industry to be so fragmented, removing the possibility of any economies of scale. But of course Silvio Berlusconi's government does have form in propping up inefficient business models – just look at Alitalia. On the other hand, we're rather partial to a sprinkling of Parmigiano on our pasta – so we can't help but feel relieved that the cheese-makers will live to fight another day