The Great British high street is disappearing
More shops than ever are lying empty despite the improving economy.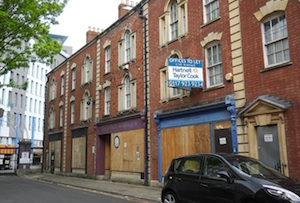 If anyone thought that the accelerating economy would save the Great British high street then figures released today should make them think again. Data from PwC and the Local Data Company show that 3,003 shops closed during the first half of 2014, an average of 16 per day.
Though better than last year's daily rate of 18, the number of new shops opening has fallen, meaning a net loss of 406 shops in the six months to June, compared to 371 in all of last year. The figures aren't likely to improve any time soon – the figures do not account for the recent downfall of Phones 4u, the majority of whose 700 units have not been reoccupied. London and the east of England were the only regions that didn't see an overall decline while the north-west and east midlands were hardest hit.
It's not like there's a lack of desire for these units; many ecommcerce companies would jump at the chance to gain a physical presence. But faced with landlords unwilling to offer competitive rents and a business rates system which unfairly penalises the high street, the numbers often just don't add up.