The great British office disappointment
Almost half of us are 'mostly disappointed' with our offices. Bah, humbug.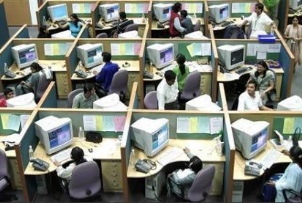 Amid all the Christmas cheer and seasonal merriment comes a press release that's about as festive as a bag of mouldy Brussels sprouts: 46% of British employees are, apparently, 'mostly disappointed' by the atmosphere at work. Come on, chaps. Chin up.

According to a 'study' (we put it in inverted commas because any survey where 'mostly disappointing is an answer doesn't strike us as especially scientific) by totaljobs.com, UK offices have the second-worst atmosphere in Europe. We're bested by Denmark, though, where 48% of workers are miserable. Which just goes to show that minimalist design, clean lines and funny foldy paper lampshades do not necessarily a jolly office make.

At the other end of the scale, Dutch people love their offices, with 31% saying they're 'great' and that it motivates them every day, while nearly a quarter of French and Swiss workers and 22% of Swedes like their offices, too.

What's unclear is whether this survey was done before or during the Christmas period. Because at MT's office, there's a clear dividing line between those who think a bit of tinsel around the monitor and a pair of flashing Santa earrings counts as 'great' or 'mostly disappointing'. The latter camp being the larger, obviously.

Anyway, John Salt, totaljobs.com's website director, reminded would-be job hunters that 'when you are searching for your next job, make sure that you like the look of the office, not the job spec'. We'd suggest employers start installing slides - or at the very least, football tables - now.