Great British summer puts sizzle in Hombase results
The owner of Homebase and Argos has reported a rise in sales as its turnaround continues.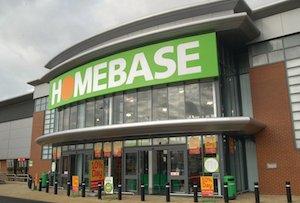 The summer of sun (now a distant memory) reaped rewards for huge swathes of Great Britain; sun starved, anaemic Brits felt the benefits on their pale skin, the embattled bees got a boost and well, anyone selling BBQs and gardening paraphernalia cashed in – as Homebase proved today with its latest results. The struggling DIY retailer saw a 5.9% rise in sales, its best performance since owner Home Retail Group bought the brand back in 2002.

Home Retail Group saw total sales in the six months to 31 August rise 3% to £2.59bn – helped by Homebase's sales rise from £787m to £822m and also by improved sales at Argos, up 2.3%.

Argos enjoyed a hike in online sales, clicks accounted for 43% of sales in the first half on the year and mobile sales rose by 124% - now accounting for 16% of sales. (Customers' choice not to shop in-store won't come as too much of a shock to those familiar with Argos' utilitarian shops).

Home Retail Group coughed up £12.6m to restructure Argos, reducing retail space and improving the online offering. This expense has been offset, in part, by the £35m saved by closing the defined benefit pension scheme to new staff.

Pre-tax profits slid significantly for Home Retail Group from £46.7m in 2012 to £14.2m but this was due to restructuring costs – without which, underlying profit would have been up 53%.

'Both Argos and Homebase are making good progress with their investment plans, and remain on track to deliver their long-term strategic objectives,' said Terry Duddy, chief executive.

In a bid to make the most of the UK's renewed passion for DIY, Homebase is enjoying a bit of a home makeover itself, with five stores currently undergoing improvements and further ten expected to get a facelift this financial year. To make further savings, Duddy is said to be playing hardball with Homebase's landlords, by closing stores if they refuse to negotiate on rents.
The chief executive remains pragmatic about the overall economic outlook though:

'As we look ahead to the second half of the year, we expect consumer spending will remain subdued, and whilst some macroeconomic indicators are improving, these have not yet led to an increase in household disposable income,' he said.

However consumer spending progresses, Argos and its owner are likely to benefit from the tie-up with online behemoth eBay. The partnership, announced last month, will allow products bought on eBay to be picked up from 150 Argos stores – it's certainly one way to get the UK's spending population through its doors and leafing through its 'laminated book of dreams'.