Great expectations
From around the globe, 35 women with something special to offer the planet: wealth creation that's not at others' expense.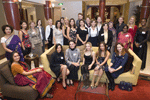 When World Business and its panel of judges started to scan the globe for women of outstanding achievement under the age of 35, the decision was made to cast our net widely: to include social entrepreneurs as well as corporate entrepreneurs and women climbing the corporate ladder in small and big businesses alike.
More and more it seemed that ambitious women were using their energy, intelligence and drive either to make money or to do good - and sometimes the two goals were intertwined. The women in the very first World Business Global 35 under 35 listing - produced in association with Shell - are immensely inspiring.
But they are also extremely diverse, reflecting the different experiences people have in the richer and poorer parts of the world. Our Global 35 under 35 come from 27 different countries and the youngest is just 24. They work in the media, finance, IT, oil rigs and agro-tourism; they are bankers, manufacturers, social entrepreneurs, consultants and senior execs.