The great teacake mistake
The humble M&S teacake could be about to cost the UK exchequer £3.5m – and it's all the Revenue's fault.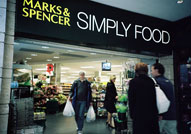 In 1973 the UK tax authorities ruled that the famous M&S teacakes – chocolate-covered marshmallows with a biscuit base – were in fact biscuits rather than cakes, and as such liable to VAT. It took 22 years for the Revenue to admit its mistake, during which time M&S shelled out £3.5m in extra taxes. Now the retailer wants its money back.
Not surprisingly, M&S has refused to be fobbed off with the measly refund offered by the Government. When the Revenue eventually conceded the teacake's true biscuit status, it said it would only pay back £350,000, 10% of the tax paid, since M&S had passed on 90% of the extra cost to the customer through higher prices. Otherwise it would amount to 'unjust enrichment', the Revenue objected. In the end, it only handed back about a quarter of that figure.
But now the European Court of Justice has ruled that M&S has got a good case for a full refund. Since the Revenue doesn't apply this unjust enrichment rule across the board, it can't single out M&S, the court reckons.