Greater prosperity has not led to a more equal society
In Inequality: What can be done, the author's prescriptions for a fairer society are bold but unlikely to be swallowed, says Howard Davies.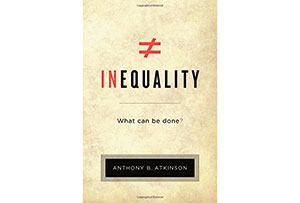 We now live in an age of celebrity economists. This year's headliner is Yanis Varoufakis, a hunky game-theorist from Essex whose spare time job is finance minister of Greece. Last year's must-have speaker at any conference was Thomas Piketty. His Capital in the Twenty-First Century brought the recent remarkable growth in income and wealth inequality to the attention of a wide audience.
Tony Atkinson might be forgiven for resenting Piketty's sudden global prominence. He has been ploughing this furrow for decades, even at times when it was a lonely occupation. I was deputy chairman of a Rowntree enquiry into the distribution of income and wealth in the mid-1990s and at that time an interest in the subject was regarded as a slightly dangerous eccentricity. The general assumption was that a rising economic tide would lift all boats, however unseaworthy they might appear, and that explicitly redistributive tax policies would damage incentives and reduce economic activity.
Twenty years on we are less sure about the boat theory. In most developed countries, and certainly in the US and the UK, the Gini coefficient, the best simple measure of inequality, has risen sharply and, in particular, the incomes of the top 1% of the distribution has broken away from the following pack. In the US, around 20% of income now accrues to the top 1%, compared with around 8% 40 years ago. The figures for the UK are 15% and 5% respectively.