Greece hits record unemployment as Spain's credit rating is downgraded
The Eurozone mess gets even dirtier as Greece's unemployment hits 25% in July, and Spain has its credit rating moved down to 'BBB minus' by Standard & Poor's.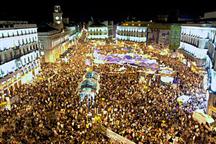 So, folks, here's your weekly euro-calamity roundup. The unemployment figures reported for July in Greece speak for themselves, but drill deeper into the data and things are even more frightening. Youth unemployment in the country now matches that of Spain, with 54.2% of people between ages 18-24 out of work. The country has been losing more than 1,000 jobs per day on average for the duration of the last 12 months. The news follows Greece's general strike, which saw public services in Athens and across the country drawn to a complete standstill. The figures are stark: back in 2008 when the crisis first hit, Greece had 364,000 people registered unemployed. The figure now stands at about 1.3 million.
In Spain the picture is not much better. The credit ratings agency Standard & Poor's has downgraded the country's debt from BBB+ to BBB-, leaving it only one notch above the catastrophic 'junk' category, in which the government would find it cripplingly expensive - almost impossible - to borrow any more money whatever. We've already seen riots in Madrid as people violently demonstrated against a further 13bn euros of cuts by the government to keep lenders happy. The credit rating change is likely to mean that the central financial institutions of the EU swing into action with a bailout ready to despatch…
And even the Teutonic powerhouse that is Germany is not immune. The country faces the risk of entering recession in the next 18 months thanks to contracting export revenues. That's according to four German thinktanks who have grouped together and released a report. But all MT's efforts at discovering exactly who these outfits are have come to nothing. A year's supply of bad Eurozone news to the reader who finds out first. Answers on a postcard. Anyway, the report predicts that Europe's strongest economy would grow just 1% next year, far shy of the 2% that they had been predicting six months ago. Apparently this estimation is based on an assumption that the Eurozone crisis does not worsen – but you don't need a degree in economics to guess that things may yet get a whole lot worse. Germany will be a lot less willing to put giant wads of cash on the table if the people start losing their jobs there, too.