Greece is the word amid rumours of Budget bust-up
Number Ten denies over-ruling Alistair Darling over cuts. But the rumours won't do anything for confidence...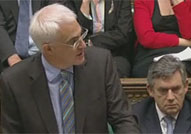 The Government's Pre-Budget Report measures to address the UK budget deficit – or more precisely, the lack thereof – haven't gone down well with the people responsible for funding said deficit: gilt prices plummeted yesterday, as investors decided that buying Government bonds might not be such a good idea after all. But if today's papers are to be believed, perhaps we shouldn't blame Chancellor Alistair Darling. Reports suggest that the Treasury wanted tougher cuts, but was overruled by the Prime Minister Gordon Brown, in case it really trashed his chances with the voters. Whether it's true or not, it won't exactly inspire confidence that the UK's finances are in safe hands…

When Darling stood up on Wednesday to deliver the PBR, the markets were hoping he'd come up with a credible plan for getting the country's finances back on track. Initial reaction was pretty muted, after he promised to halve the deficit within four years, while delivering largely unchanged growth and bond issue forecasts. However, the more people started rooting around the small print, the more they started to get nervous about the lack of detail on plans to repay our massive debt pile. In fact, we're actually going to borrow even more money next year, while the national debt could be getting on for £1.5trn in five years' time.

The well-respected Institute of Fiscal Studies has provided the most telling analysis of the Treasury's current plans: it reckons there's about £30bn of supposed savings entirely unaccounted-for in the Chancellor's sums, and argues that making up this shortfall will cost every family in Britain about £2,400. For the public sector departments that haven't been ring-fenced (i.e. everything but schools, hospitals and the police), it's predicting that savage budget cuts of up to 20% will be required in the next few years (which would surely mean strikes, on a large scale). Incidentally, this would also mean that all Labour's spending hikes since coming to power in 1997 would be reversed. Presumably that won't make next year's election manifesto.

The problem is – still – that nobody really knows where the axe is going to fall, since the Government is refusing to publish spending plans (as opposed to vague forecasts). Gordon Brown insists he didn't over-rule Darling on tougher measures (like hiking VAT to 20%), but it's easy to see why he wouldn't want to go into specifics on cuts, just before an election that he's already favourite to lose.
But this uncertainty is rotten news for Britain's creditworthiness: Moody's has already raised the possibility of us losing our gold-plated AAA credit rating if we haven't got our house in order by 2013. If we're not careful, we could go the same way as recently-downgraded Greece...

In today's bulletin:
Greece is the word amid rumours of Budget bust-up
HMV profits from rivals' woes - but Waterstone's sales slide
JJB continues rehab as DSG man takes top job
Happier employees = unhappier managers?
My Week: MC Hammer (now of Cash4Gold)