We got greedy, admits Mulberry
The luxury bag-maker went too luxury, causing profits to drop 53% in the 10 weeks to the beginning of June.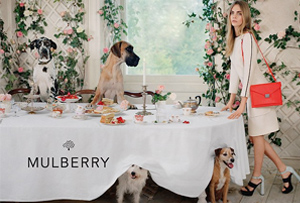 For a while there, Mulberry was an emblem of everything good about 'Made in Britain': high-end heritage hand-made in a clean, light workshop near the Babysham factory in the West Country, it was a magnet for Asian consumers addicted to Cool Britannia.

Fast forward a few years, though, and things aren't going so well for the brand: having moved much of its manufacturing abroad, it jacked up prices and this morning posted results showing pre-tax profits fell 53% in the 10 weeks to June 7, while like-for-like sales fell 15%.

Back in April, the brand admitted its move into the higher end of the luxury market – selling bags priced in the thousands rather than the hundreds – was a mistake. 'Our traditional customers have found our products unaffordable, or not to their taste,' admitted interim executive chairman Godfrey Davis, less than a month after chief executive Bruno Guillon departed.

At the time, Mulberry issued a profit warning, saying changing its pricing strategy like this would knock up to 25% off the pre-tax profit it had forecast for the year. Today, it confirmed profits had dropped to £14m, from £26m last year – dead on its prediction. Davis pointed out that was not only because of its change in strategy (which only really affected the final quarter), but also because of the costs associated with opening nine new international stores.

One figure it's worth keeping an eye on with Mulberry is its wholesale sales: that's how most of its products are sold abroad. It reckons they fell 6% to £54.5m in the year to March – although retail sales rose 2% to £109m. As it's increasingly selling its wares both at home and abroad through its own outlets, that's a bit of good news.

'We have listened to our customers and are introducing attractive new products in the key £500-£800 price range,' said Davis.

'We have doubled our UK production capacity and more than 50% of our handbags are now made in the UK using traditional skills and craftsmanship.'

Which suggests Mulberry has decided to go back to what made it popular in the first place. Here's hoping its customers can find it in their hearts to forgive it. Shares were up very slightly at 0.2% in mid-morning trading, so it looks like investors have.