Greek PM braces himself for bailout talks
George Papandreou will sit down for (more) crisis talks with eurozone leaders today. We can tell you this much: they're not happy.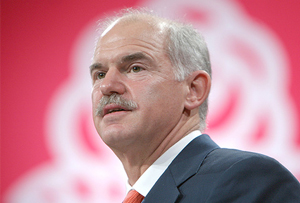 Another day,another set of eurozone crisis talks. This time, it's Greek prime minister George Papandreou around the negotiating table with German/French Cerberus-style governing monster Nicolas Merkel, which isn't happy after Papandreou won the backing of his cabinet to call a referendum on the bailout deal agreed last week by EU leaders. MT doesn't envy Papandreou his position: not only does he face the combined wrath of every eurozone leader on the block, but members of his own party have called on him to resign. What happened to the days when all Greek leaders had to do to gain the respect of their followers was slay a couple of giants?

The news that Papandreou had called a referendum on what is, ostensibly, a pretty generous offer by the EU, has divided opinion. Predictably, there's the 'not angry, just disappointed' view, as extolled by the likes of Sarkozy, who last night went on telly to publicly shake his head and lament that 'This announcement took the whole of Europe by surprise'. German finance minister Wolfgang Schaeuble's reaction was more passive aggressive: 'We assume that Greece is aware of its responsibility and will go along with the measures that were agreed together and unanimously,' he said. Very teacherly.

The other (less popular) view holds that while Papandreou's decision is awkward (it could hold up the entire process until as late as January), it's necessary, for two reasons. The first is, given that he'll have to put into force cuts that make George Osborne's look like a little light topiary, he needs the support of the public behind him. Once he's established that, he can show his masters (aka eurozone leaders) that Greece is ready and willing to do whatever it takes. Secondly, with a confidence vote scheduled for next week, there's a good chance that the Greek government could simply disintegrate – which would be at least as disruptive as holding a referendum. To survive for longer, he needs to be seen to be taking into account the will of his electorate.

Eurozone leaders' main qualm, of course, is less to do with Greece being ungrateful (although a piece to that effect on The Daily Mash did make us giggle) and more about the facts that a) it has pushed up the cost of Italian debt to an eye-watering 450 basis points above Germany's and b) it's holding up negotiations with China. Sarkozy was due to sit down with Chinese premier Hu Jintao later today to discuss the idea of investing in the European bailout fund. Obviously, given the circumstances, and discussion in that respect would now be rather academic. Embarrassingly for Sarkozy as well, the Chinese seem rather put off by Papandreou's antics: a spokesman said simply that China 'hopes the European side can honestly implement the relevant plan to solve the crisis'. If that doesn't ooze parental disapproval, we're not sure what does.
- Image credit: Flickr/Parti socialiste