Green backs off Baugur as Arcadia slips
With Arcadia feeling the heat on the high street, Sir Philip Green's interest in Baugur may be cooling...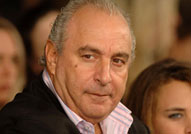 Not even retail superpower Arcadia, owner of Topshop and Miss Selfridge, is immune to the current high street slowdown. Boss Sir Philip Green said today that the group recorded a 6% drop in profits for the year to September, while sales are apparently down 1.8% in the first seven weeks of its new financial year. What's more, his chances of picking up a bargain in Iceland look increasingly remote – he told the BBC that although he was still interested in the assets owned by investment group Baugur, the chaotic political situation made a deal nigh-on impossible. And perhaps he's got enough to worry about at the moment...
Across the Arcadia group, revenues were pretty flat at around £1.8bn, while operating profits fell 6.1% to £275m (it also managed to slash its tax bill by 70%, which is good news for Green but not for the cash-strapped Treasury). But the results of the individual stores were a mixed bag: Topshop, Miss Selfridge and (particularly) Topman had good years, but the 'mainstream' chains like Burton and Dorothy Perkins had a 'more challenging time'. So although the fashionistas are still shopping, the rest of the populace appears to be cutting back.
Green is still sitting on a nice cash pile, however, hence his interest in taking advantage of Baugur's recent woes by buying into some of its high street assets (which include the like of Oasis and Principles). But he said today that although he was still interested in doing a deal, it was still 'a little bit too early' because of Iceland's 'political issues' – in other words, the fact that the country is teetering on the verge of bankruptcy makes things pretty complicated. Plus there's the issue of whether it's sensible to take on another 1,000 shops in the current environment...