The green challenge
Going green is not a simply a matter for companies, even if the CEO believes it is the right thing to do.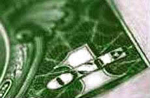 Following recent reports on climate change, businesses are increasingly examining their green policies and calculating what they should do. It is still not clear what the bottom line benefits are as the social gains do not show up in dollar figures on the balance sheet.
Until that conundrum is solved, managers who are judged by their quarterly business figures will feel less motivated to improve their green credentials than the big picture CEO.
The other problem is that some companies may fear that their greenness will not bear public scrutiny. Levi Strauss has been reluctant, for instance, to promote its organic cottons because it might attract attention to the way the rest of its cotton is produced.
Some companies claim to be taking a radical and profound approach to environmental strategy. Wal-Mart and Ford are examples, led from the top. Wal-Mart says that it is driving the change from the grassroots level and also holds its managers accountable.
Such policies should be both good for society and for business. For instance, if Wal-Mart helps fisheries to produce stocks in a more sustainable way, it should also help to keep the price of the goods down.
Source:
It's not easy going green: Environmentalism may help your corporate image, but will it keep you in the black?
Knowledge@Wharton, 7 February 2007
Review by Morice Mendoza