Green defends BHS battering
BHS profits slid 40% last year - but boss Sir Philip Green reckons the current furore is over-the-top...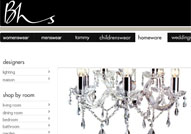 BHS recorded profits of £30.2m in the year to March 29, 39.6% down on last year's figure of £49.4m. Margins are clearly being squeezed hard, because sales were actually pretty flat at £860.3m, down just 2.9% on a like-for-like basis. So given the sales figures being recorded by some of its high street rivals recently – notably M&S, of course – you can see why boss Sir Philip Green described the results as 'a solid performance in an exceptionally challenging market'.
And there were some impressive figures in today's results. BHS's home range actually managed a 6% rise in sales, at a time when almost everyone else in the market has struggled, while childrenswear was also a big winner, enjoying a 5% jump. Green also said that the chain's solid cash generation had allowed it to invest another £50m in sprucing up its stores – 33 have now been refurbished, and best of all, sales at these new-format stores are almost 10% up on the old-style ones.
Of course Green isn't denying that times are tough for retailers at the moment; he described recent trading as 'competitive and unpredictable', and admitted that sales were down 4% year-on-year for the last six weeks. But that's not just a knock-on effect from the turbulence in the financial markets, he says. It's also due to that other kind of turbulence that UK shopkeepers have been bemoaning for time immemorial: the great British weather.