Green downbeat despite 13% more profit at Arcadia
Sir Philip Green is far from bullish, despite healthy profits across his Arcadia retail empire.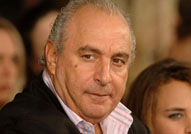 Most of his rivals would be grinning from ear-to-ear if their company managed a double digit rise in profits in current market conditions, but not Arcadia boss Sir Philip Green. Despite posting a 13% rise in profits, the billionaire owner of the group was decidedly bearish when quizzed on the UK's recovery prospects. Maybe he's just a 'glass half empty' kind of guy…
Across the group, like-for-like sales across the UK remained fairly flat, although Arcadia managed to turn a full-year pre-tax profit of £213.6m, compared with the £188.9m it made a year ago. The group continues to be buoyed by its affordable high-fashion brands Topshop, Topman and Miss Selfridge. The general populace may have cut back on new clothes, but the UK's young fashionistas continue to hit the high street – much to the relief of Green and co.
Arcadia has also managed to repay some of its debts: at the year end, it stood at £535.8m, down £159.3m from £695.1m last year. Helped no doubt by the fact that Green is once again not paying himself a dividend. But considering the last one - in 2005, paid to Green's wife Tina – was for almost £1.2bn, he's probably got enough left to get by on.