Green in the red
Retail entrepreneur Sir Philip Green will once again struggle by without paying himself a dividend this year, after his Arcadia Group became the latest victim of the UK summer weather.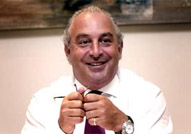 Arcadia, which includes the Topshop, Burton and Evans brands, suffered a slight drop in pre-tax profits after what Green described as 'one of the worst 'non summers' in many years'.
However, it still managed to do a lot better than many of its rivals, thanks partly to the success of ranges like the collection designed by Kate Moss. Total sales were up by 5.2%, while like-for-like figures also increased slightly – 'a very creditable performance', according to Green.
The Arcadia boss has decided to manage without a dividend for the second year in a row – though after paying out a whopping £1.2bn dividend the previous year, we suspect he probably still has a few euros in the bank.