Greene King and Wetherspoon bring cheer to battered pub sector
There's not been much good news from the pub sector lately, but these two seem to be bucking the trend.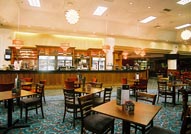 Generally speaking, it's been a rotten year for Britain's pubs, with dozens closing every week as punters forego their social drinking and put their money towards the mortgage instead. But not everyone's struggling: Greene King has just reported a boost in sales and profits (with London faring particularly well), while Wetherspoons has announced plans to open 250 pubs in the next five years, creating 10,000 jobs in the process. Although the flipside is that this will probably sound the death knell for even more independent operators...

Wetherspoon is having such a good recession that it's actually ramping up its expansion plan, arguing (quite rightly) that this is a good time to pick up cheap property. It will spend an average of £1m on each of these new pubs, which will be dotted around the UK and will take its total number of outlets to about 1,000. Clearly its cheap and cheerful offering is proving just the ticket in these cash-strapped times – and most smaller operators just can't compete with its prices, because they don't have the same purchasing power.

It's also been a pretty good six months for Greene King, which saw profits jump 3% to £62m in the six months to October 18, on sales of £464m. Apparently its Abbot Ale is now the biggest-selling beer in London, believe it or not, while its sponsorship of the England rugby union team is also paying off – it's shifting 6,000 pints an hour during games at Twickenham (anything to dull the tedium of actually watching the team). As a result, it's not only maintaining its dividend; it's also been able to snap up 12 Scottish pubs from rival Mitchells & Butlers. And why is it succeeding where others have failed? Again, CEO Rooney Anand reckons it comes down to cost – rapid price cuts at the start of the recession have kept the punters coming.

Then again, M&B has other things to worry about at the moment: it's currently embroiled in a furious boardroom row with its biggest shareholder, zillionaire financier Joe Lewis, over its new chairman. Lewis (in collusion with Irish investors John Magnier and JP McManus, according to M&B's latest complaint to the Takeover Panel) has blocked the appointment of no fewer than three chairmen; today M&B appointed someone against his wishes and moved to force his representatives off the board. With the management clearly having lost the support of their most influential investors, these shenanigans are probably a much better reflection of the true chaos within the sector...

In today's bulletin:
Is Britain set for its own Dubai-style debt debacle?
Greene King and Wetherspoon bring cheer to battered pub sector
Chairmen and non-execs could face annual re-election
Get serious about CSR, say Gen Y-ers
The Parent Project: Why should we care about parental rights?