Greenpeace goes for broke with killer Kit Kat campaign
Nestlé is subject to a remarkably aggressive attack by Greenpeace, over its use of palm oil...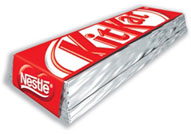 Are ethical business practices important to a company's reputation these days? Greenpeace clearly hopes so, judging by its remarkable new attack on Kit Kat maker Nestlé over its alleged use of palm oil from Indonesian rainforest-trashing suppliers. The new campaign (currently being tweeted around the globe, natch) features a fake Kit Kat ad in which an unsuspecting office worker crunches down on an orang-utan's figure, complete with spurting blood. Nestlé has issued a slightly lame denial, arguing that they don't use this supplier – or at least, not directly. But if the likes of Greenpeace are willing to name and shame, and are capable of running this kind of social-media-friendly brand-bashing campaign, big companies need to be very careful…

Greenpeace's allegations concern Sinar Mas, apparently Indonesia's largest palm oil producer, which it reckons cuts down the local rainforests (home to orang-utans, inter alia) and replaces them with palm plantations; these are then harvested and the oil sold around the world. Nestlé, it claims, uses this in its products – so is complicit in pushing the rainforests and the orang-utans towards extinction. Its campaign site carries the tagline 'Ask Nestlé to Give Rainforests a Break' and a Kit Kat logo with the letters replaced by 'Killer'; while in the aforementioned ad (update: now apparently pulled from YouTube on copyright grounds) the worker snaps off and eats a piece of Kit Kat that turns out to be a orang-utan's digit. So there are no punches being pulled.

In response, Nestlé UK has rushed out a statement assuring customers that it 'does not buy palm oil from the Sinar Mas Group'. However, it does use a supplier called Cargill, which (ahem) might well buy from Sinar Mas – although it has promised to stop unless the latter can refute these allegations by the end of April. Nestlé also said that it 'recently undertook a detailed review of its supply chain' (which rather suggests it ought to know perfectly well what's going on) and has 'made a commitment to using only Certified Sustainable Palm Oil by 2015, when sufficient quantities should be available'. So if the orang-utans can hang around for another four years (so to speak), they should be ok.

Note that Nestlé isn't being accused of cutting down any trees itself, or evicting any orang-utans. And it's hardly the only company to buy Indonesian palm oil. But Greenpeace clearly thinks that the highest-profile companies are the most vulnerable to public pressure – so attacking it for unethical business practices in its supply chain is the best way to stop them happening. And thanks to social media, people like Greenpeace can kick up much more of a stink, much more quickly, than ever before. So companies need to be extra careful that every aspect of their supply chain will stand up to public scrutiny.

In today's bulletin:
Darling gets war-chest as borrowing not as awful as expected?
Nissan to turn over a new Leaf in Sunderland
Uproar as Prudential boss takes non-exec role at SocGen
Greenpeace goes for broke with killer Kit Kat campaign
MT talks to The Catering Academy's Louise Wymer