Greggs earns its crust with new strategy
First half sales at the bakery rise 5.2% as Greggs goes all fancy.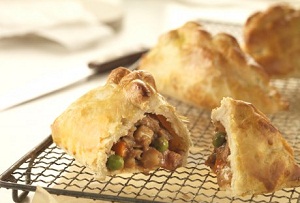 There's nowt as likely to warm your innards on a biting winter's day than a hot sausage roll and a cup of tea, other, of course, than the news that the maker of said roll and tea has made bumper revenues. Greggs, the bastion of salt of the earth British fare, announced in a trading update that like-for-like sales increased 5.2% over the 24 weeks to December 13th.

Along with its similarly successful summer, when like-for-like sales went up 5.4%, this is some turnaround. In the same period last year, Greggs grew only 0.7%, which was itself slim consolation after nearly two years of falling sales. While some might point to the recent, grim weather drawing punters to pasties like a comfort food magnet, the fact that full year-to-date sales are up 4.2% against only 1.1% in 2013 says otherwise.

The reason Greggs' boss Roger Whiteside puts for the bakery's rising fortunes is, unsurprisingly, that it's been using its loaf. 'Trading conditions have remained helpful but there is no doubt that customers are also responding to improvements in our product and service offer', he said.

Under Whiteside, in case you missed it, Greggs (or should we say Gréggs?) has gone all posh in an effort to combat the likes of Pret a Manger and the myriad of independent coffee and sandwich shops sprawling over the high street. You can now get flatbreads and tuna pasta salads and Fairtrade Arabica and Robusta blend coffee, alongside your pasties and steak bakes.

But don't get too carried away by the new range. After all, are the sushi and Starbucks crowd really ditching their old haunts for Greggs coffee and pains au chocolat? Look at the Greggs logo debacle a few months ago. A Google glitch returned a rather mean Uncylcopedia entry on Greggs and its clientele (MT shan't repeat it) that, despite the PR heroics of Greggs' Twitter team, maybe reflects what a lot of higher end consumers think about the bakeries.

A more likely explanation is that Greggs has benefitted from its recent focus on the food-on-the-go market, having refurbished hundreds of stores over the last two years to include more seats and phase out on-site bakeries. It is also surely benefitting from the move into the lucrative and complementary hot drinks trade, which it had perhaps previously neglected.

There is, of course, another explanation, as sobering as a Saturday morning Bacon roll with extra ketchup and a coke. Greggs' fortunes do appear to be inversely proportionate to the those of the high street generally. It expanded enormously during the recession, as austerity-minded consumers felt the pinch. Greggs added nearly 300 stores between 2009 and 2012 to the 1400 it already had, as business boomed.

Then, once the recovery set in a couple of years back, sales began to fall. Given the other recent signs that the recovery's flagging, Greggs' recent surge seems pretty ominous. Best reach for the pasties.