Greggs' hot sales lead to expansion plans
Promising figures send sausage rolls to a street near you...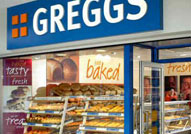 You could be forgiven for thinking that there is already a Greggs on every other street corner. The cheap 'n' cheerful bakers advertised by Paddy McGuinness even have several stores in Belgium (and we thought the Belgians were famous for their taste in posh pastries).
But over the next three years, the firm - purveyors of such thrifty delights as the steak bake and cheese and onion pasty - is due to double the rate at which it opens stores, to 70 new outlets a year. And it's looking at more than just a simple increase in numbers: the move will see Greggs expand from the high street into new locations like train stations and retail parks.
The ambitious - and let's face it counter-cyclical - plans come on the back of a strong performance during the recession. Demand for the firm's traditional, if somewhat stodgy comfort food offerings have been going down a storm with cash-strapped punters looking for a good value bite to eat. At a time when much of the high street was struggling to survive, Greggs managed to increase its sales by 3.8% this year - with much of that growth coming from new stores, hence the expansion programme.