Greggs warns sales will suffer for rest of year
The high street baker, Greggs, has warned that sales for the remainder of the year will struggle, after weaker-than-expected third quarter trading.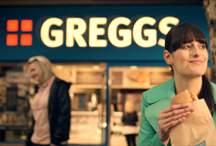 A stalwart of the UK high street, Greggs got a decent run of publicity thanks to the infamous 'pasty tax' proposals from the government, but the exposure doesn't seem to have added much to the bottom line. The chain has revealed in an interim statement that whilst total sales were up 5.9% in the 14 weeks to 6th October, like-for-like sales were down 2.6%. This is weaker than analysts had been expecting, and prompted the chain to predict that things may get worse before they get better.
There are signs that Greggs will continue to have moderate success if the economy clears up however. The significant rise in total sales comes thanks to an expansion plan which has so far seen the opening of 70 new stores. These include partnership stores opened in 'Moto' service stations and also through the 'Bake at Home' range of goods available through Iceland supermarkets. It is also worth noting that the 2.6% decline in like-for-like is actually an improvement on the 3.5% decline that the chain suffered in the previous 14 week period.
Predictably (but probably fairly), CEO Kennedy McMeikan blamed the sales figures on the poor summer weather. He said: 'Consumers continued to show restraint in their spending and the adverse weather in July, followed by flooding in parts of the country at the end of September, also impacted sales in the period.' And in fairness to Greggs, this year did actually see the wettest summer in 100 years – not something that the embattled high street can take casually. No-one likes walking in the pouring rain just to get hold of a delicious hot pasty.