Grim up North (and West)?
The North-South divide is a strange concept. Most of us are probably aware that it exists, but none of us really knows where it is.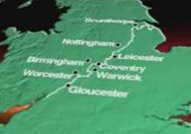 Some bright sparks in the South think that Watford Gap services are the geographical midpoint of England, while even the more sensible can't do much better than suggesting some kind of east-to-west line around Birmingham. Since most people in the London media don't tend to venture further north than the top of the Metropolitan Line, it's not surprising the question isn't taken more seriously.
However, it turns out that the North-South divide might not actually run from east-to-west at all. Researchers at Sheffield University decided to take a look at various factors like life expectancy, university education and house prices. Their conclusion was that the divide actually runs diagonally from the West Country up to Lincolnshire – so Gloucester is in the North, while Lincoln, 150 miles to the north-east, is in the South.
This may come as a surprise to many – not least the Plymouth Argyle football fans who, during an away game at Charlton Athletic in south London this week, were assailing the home fans with chants of: 'You dirty Northern b*****ds'.