Growth is still flat-lining with GDP up 0.5%
Gross domestic product is up just 0.5% in the third quarter, says the Office for National Statistics. A slight improvement on the blink-and-you'll-miss-it 0.1% growth in the previous three months.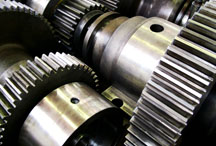 Domestic growth was largely fuelled by inventory-building, says the ONS. Businesses have been restocking their bare cupboards in time for Christmas orders. Nevertheless, output from the production industries has increased by a marginal 0.4%, within which manufacturing is up by a small fraction at 0.2%. Exports, crucially, are down 1%.

The service industries are doing ever so slightly better, with output up by 0.6%, while construction brings up the rear with a 0.2% decrease. Although the industry may prove the tortoise to the hare in this recovery race if Cameron's 'build our way to recovery' schemes hit their mark.
Government spending has nudged up the figures this quarter, with a 0.9% increase on previous months. But as austerity measures continue to squeeze the public sector, this cash will soon dry up. Consumers are being a little freer with their pennies. Household consumption has stayed the same, but that's an improvement on the decline in spending during the first half of the year.
These third quarter figures might not look like much but Chris Williamson, chief economist at Markit, foresees dark days in the mini percentiles. 'Unless the situation in Europe changes for the better soon, the UK looks to be on course to slide back into recession in the new year,' he says.