'Growth for growth's sake isn't for us': Glencore returns $1bn back to shareholders
The mining giant's shares rose 2% after it launched a $1bn share buyback.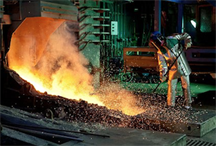 Glencore smashed forecasts by reporting an 8% jump in first-half profits to $6.5bn, and the commodities and mining giant has now launched a share buy-back programme of up to $1bn (£60bn) over the next six months. Shares rose 2% to 365p when the markets opened, although settled to around 358p by mid-morning.
London-listed Glencore said last week that it had gained $7bn from the sale of its Peruvian copper operation Las Bambas to a Chinese consortium in April. This allowed the company to return some of its excess gains to shareholders. It may not be the most imaginative way to spend $1bn, but it means Glencore will return capital to investors before rivals BHP Billiton and Rio Tinto.
BHP Billiton's shares dropped almost 5% when it announced earlier this week that it wasn't yet ready to start returning cash to investors.