Growth jumps to 0.7% as small business confidence soars
The Office for National Statistics has upped economic growth for the second quarter - while morale among small firms is riding high.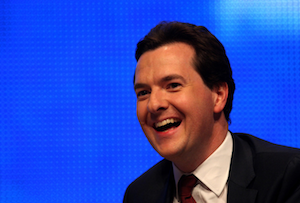 Office for National Statistics (ONS) revisions come along as often as the number 10 bus, but its revision of second quarter growth of GDP from 0.6% to 0.7% is nonetheless welcome. The statistician 'wizards' over at the ONS have put the upwards correction down to improved output in a number of the UK's industries.

The last time the economy enjoyed a 0.7% rise in GDP was during the third quarter of 2012, when the economy was boosted by the Olympics. Thankfully this year round, we don't need a £9bn global sporting extravaganza.

Instead, we have expansion in the services, manufacturing, agriculture and construction sectors to thank – which has saved us a few pennies. Chancellor George Osborne must be delighted: with the general election two years away, the beginnings of a recovery will give him a stick with which to beat Ed Balls et al.

'There is still a long way to go, but the economy is on the right track and the government is committed to its economic plan that has already cut the deficit by a third and enabled the private sector to create over 1.3 million new jobs,' a spokesman for the Treasury said.

The joyful news has been mirrored by a rise in confidence among small firms. According to Zurich Insurance, small business confidence has all but doubled compared with the last quarter. Only 28% of small business decision makers think their companies face more risk now than the previous quarter.

'With many official figures suggesting a return to economic growth in the whole UK economy, it is encouraging to see a shared optimism among Britain's small and medium-sized businesses,' says Richard Coleman, director of SME at Zurich Insurance.

'SMEs are building in confidence and reinvesting in their business, suggesting a belief that these economic green shoots are here to stay, for the moment at least.'

Business leaders are more willing to throw some money into growth, with a 50% rise in those re-investing in assets and operations.

'A key part of being a successful small business owner is the ability to take measured risks, and this is what many SME owners are regaining the courage to do,' said Coleman.
Talking about measured risks, this data will no doubt provide food for thought over at Threadneedle St. What about those interest rates now eh Mark?