Growth up, job cuts down: OBR forecasts boost Coalition
George Osborne will seize upon the latest forecasts from the Office of Budget Responsibility as proof that his policies are working. Is he right?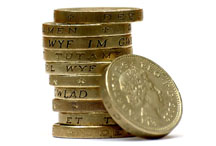 The trouble with the Government creating an independent Office for Budget Responsibility is that there's a risk of them falling out over the impact of economic policy. But no such problems for George Osborne yet: the OBR's latest predictions, which show growth revised upwards and public sector job cuts revised downwards, have allowed the Chancellor to claim this afternoon that his approach is entirely vindicated. And he gets a lot more kudos this way than if these were Treasury forecasts. Perhaps it'll help bolster his reputation in Washington…

The OBR said today that it's revising its growth forecast for this year upwards – so it's now expecting GDP growth of 1.8%, up from the 1.2% it expected at the time of the June budget. That's thanks to the better-than-expected performance of the UK economy in the last couple of quarters. Better still, it argues that the tax take will be higher than expected, while welfare payments will be lower. As such, it's also slashed its prediction of potential public sector job cuts from its previous estimate of 490,000 to 'only' 330,000 by 2013/14. That's a big drop. So basically, the picture seems to be looking a lot healthier than it was back in June.
This will be music to the ears of the Chancellor, who is making his autumn statement to the Commons this afternoon - particularly since today's retail figures also provide a timely fillip, by suggesting that people are still not too scared to spend their money. All of which allows Osborne to claim that everything is working out exactly as he planned; that the Government's deficit reduction plan has calmed the markets; and that his proposed cuts have not completely put the brakes on the economy. 'Our decisive action has proved that Britain is able to live within its means,' Osborne crowed today. 'This is an uncertain world, but the recovery is on track... This plan is working.'
But will it last? Do today's figures suggest that we're on a steady road to recovery, as the Government would like us to think? Or does it just mean that the real pain hasn't started yet? After all, the new year will see both large-scale public-sector redundancies and tax hikes (not least VAT) – and, undoubtedly, more problems in the eurozone, our most important trading partner. The OBR has revised its 2011 growth forecast downwards - from 2.3% to 2.1% - but lots of commentators still think it's being way too optimistic.

Today's OBR figures are undoubtedly a boost for the Chancellor and his economic policy. But he'll still be crossing his fingers for a while yet.