GSK's Ebola vaccine breakthrough is a PR win
Every big drug company worth its salt wants to find a cure for the virus.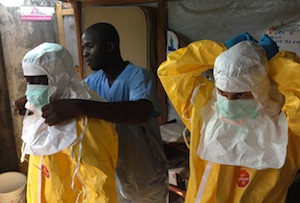 GlaxoSmithKline chief executive Sir Andrew Witty hadn't had a great year on the PR front, what with sex tape-fuelled allegations of bribery in China. But as the pharma giant inches closer to finding a working vaccine for the Ebola virus, Witty is getting to be the good guy for once.

The first trial data for GSK's potential vaccine, which is being co-developed with the US' National Institutes of Health, was 'very encouraging', Witty told the BBC, increasing the probability of it becoming available in the second half of next year (GSK recently said it didn't expect it to be ready until 2016). All of the twenty healthy adult volunteers tested had an immunological response to Ebola, and the drug was 'well tolerated'.

If the three other small-scale clinical trials taking place are also successful, GSK will start a major trial with thousands of health workers in Sierra Leone and Liberia early next year. Almost all of the 15,935 Ebola cases, and all but 15 of the 5,689 deaths, have been in those countries and Guinea.

'It sounds trite but in a situation like this you have to do the right thing,' Witty said. 'We've taken decisions without the guarantee of compensation. I think that's the right human response to this crisis. Whether we are a big company or not, we are still humans.'

You can almost see the gates of heaven opening, but it does actually seem like a serendipitous example of The Right Thing and business interests coming into line – hence why other big pharma companies like Merck and Johnson & Johnson are also fast-tracking Ebola drug trials.

GSK still has to work out how scale up manufacturing to make millions of doses of the vaccine available if they get the green light, and it's also still negotiating an indemnity in case anything goes badly wrong (vaccine trials normally take years not months). Moreover, pharma companies don't traditionally bother much with drugs that would primarily help people in developing countries who, to put it bluntly, can't pay.

But more generally vaccines are also tricky to develop – while that makes the process costly, it also means they're harder to copy. In this case, the rapid, relatively regulation-free development is far cheaper for GSK and the others. Moreover, the market for vaccines is growing faster than for prescription drugs. The World Health Organisation estimates it ballooned from $5bn (£3.2bn) in 2000 to $24bn last year, and will expand to $100bn by 2025.

Most importantly for GSK and other drug companies racing to develop an Ebola vaccine or cure, though, is that intangible reputation boost that will come from finding a drug that works. If one does and doesn't lose lots of money doing so, then it's a win-win situation – for patients and business.