GSK's Ebola vaccine will be 'too late'
The drugs giant says its vaccine won't be ready until 2016.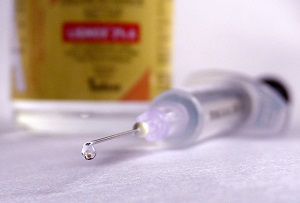 As public fear over the Ebola outbreak ratchets up, the world's pharma giants are racing to find a working vaccine. There's bad news for those hoping to immunised any time soon, though, as GSK admitted today its vaccine won't be available until 2016.

The firm has fast-tracked its efforts since the latest deadly outbreak in west Africa began, but is having to squeeze what would normally be a decade's work into one year. Early trials have begun, but the next stage of testing won't happen until next year.

'In order for the vaccine to be used we need to have data about its safety and efficacy, and those data will not be available until the end of 2015,' GSK's head of Ebola vaccine research, Dr Ripley Ballou, told the BBC.
'At the same time we have to be able to manufacture the vaccine at doses which would be consistent with general use and it's going to take well into 2016 to be able to do tha, so unfortunately it's not going to be as quickly as we would like.'

More than 9,000 people are now known to have been infected by the virus, half of whom have died. This is a significantly lower mortality rate than in previous outbreaks, partly explaining why it has spread so fast this time. Professor Peter Piot, who was part of the team that discovered Ebola in 1976 has warned that the outbreak could last well into next year.

Meanwhile Mapp Biopharmaceutical, a US company, has already developed the experimental Ebola drug Zmapp, which has already been used to treat some patients, and a subsidiary of Japan's Fujifilm has been working on another treatment called Favipiravir.