A guide to bad bosses, by cult illustrators Modern Toss
Bosses come in every shape and size. There are, however, some who remain beyond the help of training or advice and will be forever awful. Here's a guide from cult illustrators Modern Toss on how to spot the managers to avoid.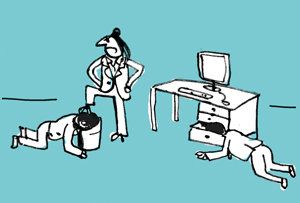 1. The Narcissist Boss
You can spot the Narcissist Boss when you attend his industry event and he's booked his own indie band to headline. Of course, you should have guessed when you encountered a company simply named Shaun, which had a silhouette of Shaun's own head as a logo. Here even the slightest company achievement is seen as further evidence of the value of Shauning. Company colleagues, or 'Baby Shauns' as they're officially known, must crank up for work every morning by singing the Shaun song. It may be a nightmare for everyone but Shaun, but such desperate self-promotion does have one positive: a business achieves an enviable sense of togetherness when everyone, from the postroom to the boardroom, thinks Shaun is a dick.