Could the 'Gulfo' supplant the dollar?
A new Arab monetary union, modelled on Europe, could give birth to an important new currency.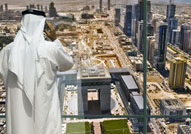 Interesting news from the Gulf, where four oil-rich Arab states have just entered a 'monetary union pact'; this will lead to the creation of a central bank for the region and a new currency modelled on the Euro – dubbed, with startling originality, the 'Gulfo'. Since these states are very rich and control a sizeable chunk of the world's oil production, this monetary union could have some serious political heft. And if the Gulfo becomes the basis for oil contracts, some argue that in time it could even supplant the dollar as the world's reserve currency (which wouldn't be good for sterling either, presumably). Although if Europe really is the region's model, it's got some way to go…

The union is being spearheaded by Saudi Arabia, Kuwait, Bahrain and Qatar – so there's no place yet for Abu Dhabi or stricken Dubai (although they're expected to get involved later, as is Oman). The first phase will apparently involve a Gulf Monetary Council, as part of a move towards a fully-fledged central bank – this will then set a timetable for the launch of a single currency, and decide whether it should be pegged to the dollar or float in its own right. Apparently the whole thing is modelled on the European Union, which they see as being a huge success (just don't mention Greece). Let's just hope they come up with a better name than Gulfo before they start printing notes...

Closer union between these countries makes sense, in some respects. They have relatively similar economies (in that they're heavily reliant on pumping black gold out of the ground, apart from Dubai), while they also share a common language and religion – so there aren't the same racial and religious tensions that have afflicted Europe (although they can be equally tribal at times).
However, the region enjoys nothing like the same freedom of trade and movement that there is within the EU, so any kind of monetary or economic union is going to be very complicated. And the size of Saudi relative to everyone else will also make the internal politics difficult, you'd have thought (Abu Dhabi is already miffed about the body being based in Riyadh, apparently).

So there are lots of hurdles to be jumped yet. But the western superpowers may be a little nervous nonetheless: the rise of a strong petro-currency could severely reduce demand for dollars and other reserve currencies (including the pound) – which could accelerate the eastern-wards shift in the balance of economic power...

In today's bulletin:
Shock fall in high street sales - as JJB's woes continue
Thousands face Christmas chaos thanks to No-Flyglobespan
Could the 'Gulfo' supplant the dollar?
Microsoft's 'one brand of shampoo'
Punch's glass remains half empty