Habitat up for sale?
Ikea's Kamprad family uncertain about the future of the iconic British chain.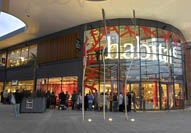 It's the ultimate middle-class urbanite's store. With it's minimalist feel and clever design, it's a shame to see the brand suffer. Founded in 1964 by Sir Terence Conran and bought from him by the Swedish Kamprad family during the last recession in 1992, Habitat's problems have kept stacking up.
Yes, the recession has hit the company hard as shoppers shy away from splashing out on furniture, but retail experts say many of the business' woes - such as poor customer service, a wrong product mix and overpricing - have been self-inflicted. Its latest accounts (of March 2008) show losses of more than £13.4m, and now investment bank Lazard has been called in to assess a number of options for the chain, ranging from sale to break-up.