Hamleys to be snapped up by Chinese buyer for £100m
All C.banner International Holdings wants for Christmas is the oldest toy shop in the world.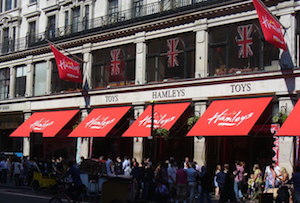 Chinese footwear company C.banner International Holdings is in 'advanced talks' to buy Hamleys, with the Hong Kong-listed company is expected to confirm a deal to buy 255-year-old retailer for around £100m.
France's Ludendo Groupe has owned Hamleys since 2012 after buying it for a cool £60m. Aside from being the closest place to the North Pole for many children, with its Regent Street flagship store renowned for its Christmas extravaganzas, the seven-floor toy store is a honey pot for tourists all year round.
As far as British brands go, it's a solid pick as an established name and family favourite – and Hamleys could be a handy way for C.banner to diversify its business.