Hammer time for Cash4Gold in the UK
The UK launch of Cash4Gold gave MT a chance to catch up with not just one but two musical legends...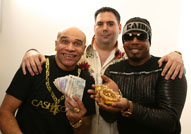 As a business model for these recession-hit times, there's a lot to be said for Cash4Gold. The US-based firm was set up in 2007 to allow people to send in their unwanted jewellery in exchange for cash; it now employs about 400 people in six countries and has completed getting on for a million transactions. It first came to the UK in July, but it's now planning a big marketing push, fronted (believe it or not) by rap legend MC Hammer and British DJ/ composer/ artist Goldie. So you can expect to see a lot more of it in the coming months – although the company's discovered that not all publicity is golden…

It's fair to say that the moons have aligned for Cash4Gold this year. Gold prices are at a record high (topping $1200/oz last week), while the global recession has meant lots of cash-strapped punters looking to get their hands on some ready money – and by doing it through the post, they can avoid the stigma attached to pawnbrokers (and the hassle of online auctions). The company's also been on an aggressive marketing push, buying up an ad slot during this year's Superbowl for a reported $2.4m. Featuring Hammer and the late Ed McMahon talking about the increasingly ridiculous stuff they're going to melt for cash, the ad went down a storm State-side (it's pretty funny – catch it here), and it's given the company a big profile boost. 'We've taught the world how to monetise those trinkets they have stored away in a box,' CEO Jeff Aronson tells MT. 'We created this market.'

Now it wants to repeat the trick on this side of the pond, where it already employs about 80 people. Hammer will again be the front-man, but this time he'll be joined by Goldie, who – in a nice Web 2.0 twist – was selected by the British public via an open internet vote (aren't we imaginative?). No word yet on whether the UK ad will have the same format, although Goldie tells MT that he's going to be heavily involved in the creative process (then again, since his only key aims for the shoot are apparently to 'get Hammer out of those pants' and 'beat him at the Running Man in his own backyard', Cash4Gold might have other ideas).

But Cash4Gold's new-found prominence has also attracted controversy. The company has come in for criticism about the way it operates – and particularly, the rock-bottom prices it pays for gold. 'Yeah, we got some haters,' admits Hammer, who's now an equity partner in the business (we're pleased to report he took those shades off to talk to MT). But the criticism is unfair, he insists, because customers don't have to accept the company's offer – they can just send the cheque back and have their jewellery returned (although apparently this only happens in 6% of cases). 'They're attacking a genuine transaction. We're not twisting anyone's arm here'. In other words, you can't touch them for it.

Cash4Gold admits on its website that it 'isn't for everyone' – and it certainly isn't for people who want to get all their money back on a piece of jewellery. But the fact that it buys low and sells high is hardly a novel tactic. What'll be interesting is whether the concept appeals to British sensibilities – and whether it can keep growing at this rate once we're out of the recessionary woods.