How to hand out Christmas bonuses
'Tis the season to be jolly and give your staff a reward for all the hard work they've done during the year. But if you're playing Santa, who should get a bonus and what should they get? Here's a crash course.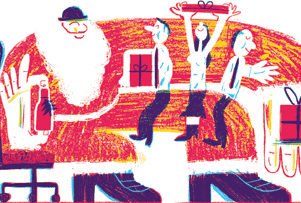 What is it? The Christmas bonus is seldom the vehicle for rewarding individual performance, says Chris Charman, a director in the rewards practice at consultants Towers Watson. 'It's usually given for historic reasons and it's tokenistic compared with the performance bonus, which is the big one.' If Christmas is the end of your financial year, you could make it performance-related - but be prepared to make some people unhappy.
Be clear. If you aren't offering the same thing to everyone, make sure you communicate clearly who gets what and why. Differentiating will leave some happy - and others fuming.
Manage expectations. When you haven't had a good year, it's tempting to axe the Xmas handout, but be wary. If the bonus is designed as a thank-you, taking it away is a brilliant way to destroy goodwill. 'Behavioural economics teaches that people perceive the loss of something twice as much as they perceive its gain,' points out Charman. Don't let people mentally spend their Christmas bonus then discover they aren't getting it.