Handshake or kiss on the cheek? Where to touch someone when you first meet
Oxford University has some advice on how to stop an important business meeting getting awkward.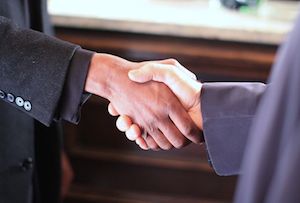 We've all been there: a stranger swoops in to kiss you on the cheek, leaving your outstretched hand trailing mid-air, or you go for the French double bise, only to be met with cheek barging.
Researchers at Oxford University and Finland's Aalto University have attempted to navigate the social minefield for you, and it seems that a handshake really is the safest option when meeting a stranger if you want to be sure of avoiding all awkwardness (as long as you're prepared to accept a cheek kiss if they do go for one).
They asked more than 1,300 men and women from the UK, France, Finland, Italy and Russia to colour in the areas of their body that they would let people touch, from a partner to a complete stranger. Here's a heatmap showing the results - the lighter the colour, the more acceptable it is to touch someone there (blue for male touchers, red for female).