What happened to all the Game of Thrones backstabbing?
George RR Martin's fantasy world and business have many parallels, claim the authors. But their book is too short of gore and thrills, says Elizabeth Anderson.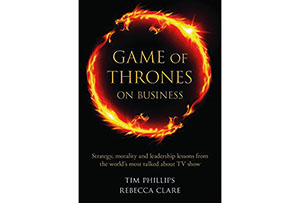 Game of Thrones is not for the faint-hearted. With murder, betrayal, back-stabbing, incest and bribery around every corner, the TV series is gripping – and stomach-churning – viewing.
Based on medieval fantasy novel series A Song of Ice and Fire by George RR Martin, Game of Thrones follows the battle between various noble families of the fictional Seven Kingdoms of Westeros to gain control of the Iron Throne.
The show has already provided the inspiration for many personality quizzes and countless fancy dress parties. So it's not surprising that someone has bravely decided to draw parallels to today's business world. The result is Game of Thrones on Business, a book that promises to explain what a fantasy involving dragons, ice monsters and heads on spikes can teach us about business.