Happier employees = unhappier managers?
If your staff have started to look more cheerful, it may be because they're about to hand in their notice...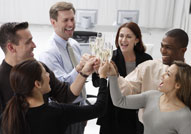 After all the recessionary doom and gloom lately, we were initially delighted to see a new 'happiness index' claiming that UK workers are actually more cheerful now than they were last year (4% more, to be precise, for the statisticians among you). However, there's a catch: now that people are starting to feel a bit more secure in their jobs, they're starting to cast around for better offers. So the flipside of all this good cheer could be that you're about to lose some of your best people…

Since recruitment consultancy Badenoch & Clark started its 'Happiness at Work' tracker back in 2007, the index has only been going one way: down (the credit crunch and subsequent recession saw to that). But this time round, things have taken a turn for the better – 76% of respondents reported high levels of happiness in the workplace, an increase of 4% from the previous quarter.

Now your natural instinct may be to ascribe this to a surfeit of office pre-Christmas cheer – but actually, 72% said morale was still at a low ebb within their company. In fact, says Badenoch & Clark (which admittedly has rather a vested interest here), this improved sentiment is down to people's greater confidence in the job market. Not only are staff less worried about losing their current job, they also fancy their chances of getting a better one: a whopping 42% of people are planning to move in the New Year (a proportion that rises to almost two-thirds in hard-hit sectors like banking and media).

That's a lot of itchy-feeters, particularly given that we're still seeing unemployment rise across the board – and it represents a potential headache for managers, who face the prospect of losing key staff as the economy starts to recover (some might expect a bit more loyalty from people whose jobs they've preserved through the worst of the recession).

So what can you actually do about it? Well, B&C reckons it's all about retention strategies: working on your employer brand, offering well-defined career paths and competitive benefits, and so on. However, perhaps the simplest thing is to make sure you don't cancel the Christmas party: according to the Chartered Management Institute, two-thirds of bosses think a Yuletide bash is vital for employee engagement. Although since the majority also think that an expensive party can damage a company's reputation, you might want to go easy on the champagne and caviar this year.

In today's bulletin:
Greece is the word amid rumours of Budget bust-up
HMV profits from rivals' woes - but Waterstone's sales slide
JJB continues rehab as DSG man takes top job
Happier employees = unhappier managers?
My Week: MC Hammer (now of Cash4Gold)