A happy newspaper company
Independent News & Media is avoiding the fate of other newspaper companies, which are experiencing falling readership figures and declining sales, by focusing on countries where the economies are strong and the internet is weak such as Ireland, South Africa, Australia, New Zealand and India.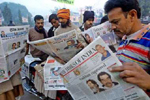 Broadband connections are low in most of the company's markets. Last year the Irish media firm, which is run by ex-Heinz chief Tony O'Reilly, earned $294 million on $2 billion revenue. While the newspaper market may be in trouble in the UK and the US, countries such as India are seeing growth.
Independent News & Media's $35 million stake in an Indian publishing company Jagran Prakashan Ltd (JPL), which sells the Hindi-language Indian paper called Dainik Jagran has increased in value to $75 million. The publication has 225 sub-editions to cope with the number of different dialects in its market.
Independent entered many of the same markets as Heinz (where O'Reilly used to work) and with the exception of the UK, it has built many of the highest-circulation newspapers. This enables it to set high prices. The company has also followed a 'go local' strategy.
For instance, it launched a free newspaper supplement, Polski Herald, for Ireland's growing Polish community which raised the circulation of the main paper, the Evening Herald by 3%. It has seen ad revenue drop, however, in its UK-based paper The Independent. Hedging its bets the company has also acquired on-line assets such as an Irish real estate listing called PropertyNews.com.
Source:
The Ketchup Strategy
Megan Johnston
Forbes, 13 November 2006
Review by Morice Mendoza