The hard facts about half-truths
BUSINESS CLASSIC: After reading this, you won't trust your gut feeling until you've got some facts to back it up, says Stefan Stern.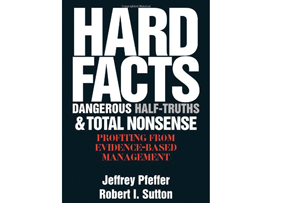 During the Enlightenment, philosophers grappled with the question of what if anything we could know for sure. Modern management is different: fads, gut feel and myths 'inspire' leaders to do some pretty silly things.
Pfeffer and Sutton, both professors at the Stanford Graduate School of Business, call time on amateurism and guesswork in this punchy book. They urge leaders to base their decisions on facts – 'evidence-based management' – and not hunches.
A particular target are 'half-truths', which the authors describe as 'ideas and principles that are partly right at times, but are flawed and misleading often enough to get organisations into serious trouble'.